Medicare Insurance Benefits
Medicare Benefits are also Available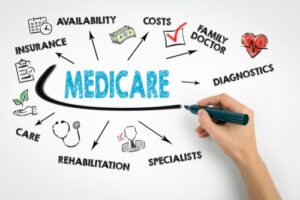 Once you have been approved to receive Social Security Disability Insurance or DWB benefits, you will qualify to receive Medicare benefits, as well. You will be presented with several choices that may lower your medical costs. We have Medicare Specialists at The Disability Champions who specialize in helping individuals sort out the differences between their Medicare coverage options. Our experts will make your choice easy by doing the research on the various plan options. We will also help you to enroll in your Medicare plan.
Our goal is to give you confidence that you have chosen the Medicare plan that is right for you.
Twenty-four months after being awarded Social Security disability benefits, Medicare benefits are available to you, as well. You will receive a packet from the Social Security Administration a few months before the date you are eligible for Medicare enrollment. There is a Fall Open Enrollment for Medicare from October 15 to December 7 each year. This is the period of time during which claimants currently on Medicare can review their health coverage and make any desired changes. For those who enroll during Fall Open Enrollment, coverage begins on January 1.
Our Medicare specialists at The Disability Champions will help you with the Medicare benefits enrollment process free of charge. Contact us today for help enrolling in Medicare.
Free, No Obligation Evaluation
You may qualify for disability income!

Our Services
We have helped thousands of individuals in all 50 states
Champions Results
We provide you with the best disability claims service, no matter which of the 50 states you live in

Our Mission
Our mission is to provide the best services for social security disability claims, to exceed the expectations of our clients regarding the quality and value of our services, and to provide a positive work environment for our team.