How to Apply for Social Security Disability
Benefits of Representation During the Application Process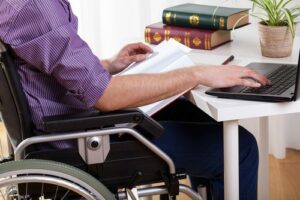 Filing for disability benefits is something you can do on your own, though it is a complicated and often lengthy process. Simply identifying the type of benefits you may quality for can be difficult. Going through the Social Security disability benefits process can require the completion of three separate applications involving 25+ pages. The potential consequences of making an error include the following and more:
Benefits can be lost
Benefits can be delayed
The amount of back pay benefits can be reduced
If you don't want to risk losing lifetime disability funds amounting to possibly $200,000 or more, get the help of our experienced experts at The Disability Champions. The help you receive will be provided with Zero Upfront Costs, including a Free Evaluation, to determine whether you qualify for benefits.
It costs you nothing to apply with the help of a team of experienced advocates.
Representation from The Disability Champions will ensure that no mistake or technicality gets in the way of your receiving Social Security disability benefits.
We will ensure that you and your family receive the full amount you are entitled.
What is Social Security Disability?
Social Security Disability is an insurance policy paid for with automatic deductions from our paychecks. The deductions are for social security taxes (FICA), and they are paid to the U.S. Social Security Administration (SSA). Anyone who receives social security disability benefits is getting back what was paid for during employment. Many don't realize that disability benefits are not handouts at all but, rather, payments on an insurance claim.
Who is Eligible to Apply for Social Security Disability Benefits?
To qualify for Social Security disability benefits, you must have worked in jobs that are covered by Social Security. Next, you must have a medical condition that fits with the SSA's definition of disability. You must also be in a position of being unable to work for one year or more, due to a disability. In addition, you need to have worked long enough and recently enough to qualify for disability benefits.
Why Choose The Disability Champions for Help Applying for Disability?
Assisting individuals in winning their claim for disability benefits is all we do.
You pay No Upfront Costs and Zero Fees unless you win.
We have a proven track record for helping clients win their social security disability claims.
There are many potential snags that cause people to lose disability benefits they could have otherwise had, and The Disability Champions ensure that no technicalities or errors will occur during any phase of the process.
Free, No Obligation Evaluation
You may qualify for disability income!

Our Services
We have helped thousands of individuals in all 50 states
Champions Results
We provide you with the best disability claims service, no matter which of the 50 states you live in

Our Mission
Our mission is to provide the best services for social security disability claims, to exceed the expectations of our clients regarding the quality and value of our services, and to provide a positive work environment for our team.